It's no small matter that earthly nuptials are likened to the heavenly wedding feast. Like the Mass itself, so many aspects of a couple's wedding day have a sensory element intended to remind us of the singular, sacred nature of the day: candlelight, your best dress, beautiful music, a delicious meal. Including cake! The bride and groom's sharing of something indulgent and artfully presented conveys the elevated nature of the day and, if they choose to save a piece for their anniversary, invites remembrance in a tangible way.
Milissa "Mili" Takashima's son had a severe peanut allergy. Where, in 2010--before the boom of now-ubiquitous allergy-friendly food service--could one find peanut and tree nut-free treats? With the support of friends and family, Mili's amateur love of baking became a professional pursuit in the form of a dessert catering business, and Mili's Sweets was established.
A former vice president of marketing and public relations for an apparel company and a San Diego State University journalism graduate, Mili's business savvy and gift for storytelling found their perfect outlet in the wedding industry--a field dedicated to helping couples express their love stories.
Her first year in business, Mili's Sweets won a Best of San Diego award for its cupcakes, and her orders and client list grew. It's her Catholic clients whom Mili bonds with in the deepest way, enjoying the opportunity to speak candidly about the beauty and goodness of marriage during their consultations. Some of her brides and grooms have stayed in touch long beyond their wedding days, referring Mili to family and friends and placing orders for baby showers and First Communions.
Starting from day one, all of Mili's cakes, cupcakes, pastries, and other offerings to her native San Diego area have been peanut and tree-nut free, competitively priced, and crafted in small batches. Today, alongside traditional recipes, Mili offers gluten-free, dairy-free, and vegan selections. In addition to baked goods, Mili's Sweets also provides custom styling and settings for dessert tables.
From Mili: When I consult with my clients, I let them share with me what they are looking for. I don't hold back on my own personal experiences and recommendations too. I don't judge the people I make desserts for--we are all loved and cherished. However, when my clients are Catholic, they tend to know that I am and they make that known in our conversation. When I do retain a wedding client, I hope they think to come to me for their baby shower, their friend's wedding, anniversary, and any of their family's special occasions in the years to come. I've been blessed to make desserts with people throughout their family journeys, and even on through parents and grandparents. Providing such a service to my community is an absolute treasure for me.
Over the years, my hands have made thousands of cupcakes, hundreds of cakes, and many assorted desserts. My most fulfilling work accomplishments have been fundraising for several organizations and charities via my sweets. I do some public fundraising work, as well as other donations at my home parish. One of my greatest joys is making and donating birthday cakes for my friends who are priests. I think of my son possibly becoming a priest one day, and that motherly love for them pours out. They deserve a handmade treat, especially when they give so much for us every day.
Any gifts I have are given by God, and I find fulfillment in using my time to share those gifts.
My favorite place to be is with my husband and our kids at the beach. Our family life is a total team effort, and my own parents have influenced where I am. I loved my dear dad, who recently lost his battle to cancer and was raised as a first-generation American with influence from my mom and her big Italian family. I share my mom's love of faith, family, food and all things homemade. One day I hope write my parents' life stories and a cookbook or two.
What I'm offering through my business was given to me as a gift, and I acknowledge that every time I finish a cake. I literally thank our Blessed Mother for helping me when I'm done.
Even after all the experience I have, I still get nervous, because I want everything to be as perfect as possible. The only thing that truly calms me is prayer while I work. I'll pray at least two Rosaries while decorating a cake.
If I know my customer, they will probably be my friend. With that, I try to think of them and their intentions while I work. It calms me and focuses my hand. Non-Catholics would think I was absolutely crazy, and that's all right! I guess it is a little crazy, but prayer works for me and I believe it shines through in my work, which I totally take personally and to heart.
Mili provided desserts and styled the tables in the following images, from Meaghann and Fawaz's Catholic wedding. Her take on these vintage-inspired details:
Throughout my eight years of professional wedding dessert catering, this reception is one of my all-time favorites. I think it's because I know and love the bride and groom and their families so dearly. Meghann and Fawaz have been happily married since day one, and their family has since grown to include two beautiful sons. This match is like a dream come true in the eyes of their parents and friends. Their first official date was going to Adoration! Their devoted Catholic parents, on both sides, were just gushing about how true and beautiful this sacred union is, and it's all so easy to love since they hold a special place in my heart. The reception was truly special , filled with hand-crafted and vintage details.
I set three large dessert tables with plating and vintage linens and tea cups from my personal collection. The wedding cake stood at the center, surrounded by the bride's vintage glass bottles. All of these pieces were filled with beautiful arrangements by Meghann and Fawaz's florist and friend, Danniel.
The cake was covered in vanilla buttercream and each cake layer was a different combination of cake to include fresh fruit flavors. I arranged flowers to cascade down the cake, along with real lace. My favorite part was the floral and gold cross design I made at the back, where Meghann and Fawaz would be standing for the cake-cutting ceremony.
I had the honor of working with my dear friend Anna of Anna's Fruit Carvings, a true artist who makes the most gorgeous carved fruits and melons. Her hand-carved watermelon and cantaloupe were the centerpieces for the side table, and made the fresh fruit buffet absolutely stunning.
To the sides of the center cake table were my creme brûlée cupcakes, garnished with fresh raspberries. I styled the additional items, including fresh-cut fruits and family desserts.
Meghann's mom collected all of the different tea cups and matching saucers and they made planters out of them for the succulent wedding favors. I think what I love about this entire reception is that vintage elements are relevant, classic, and timely all at once.
MILI'S SWEETS | WEBSITE + ORDERING | BLOG | INSTAGRAM | FACEBOOK | TWITTER | PINTEREST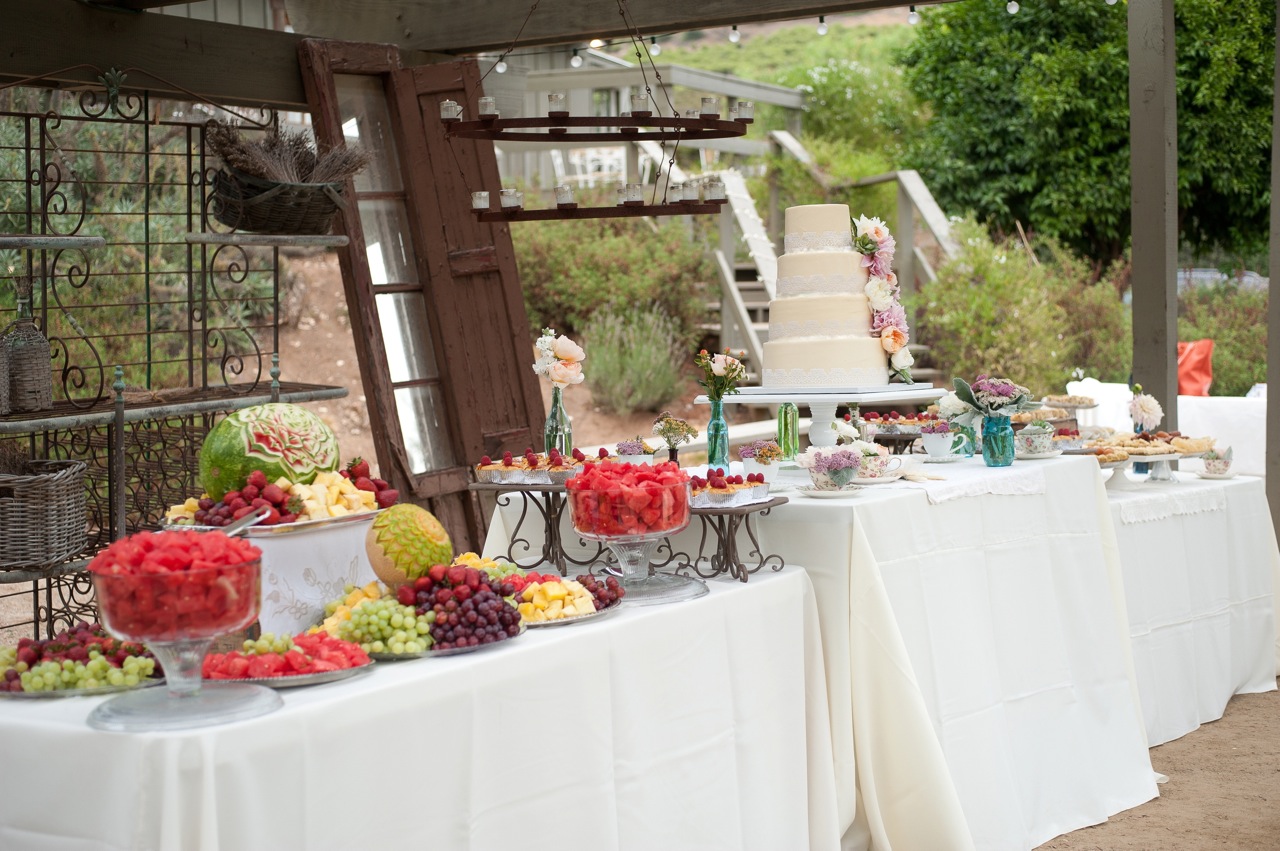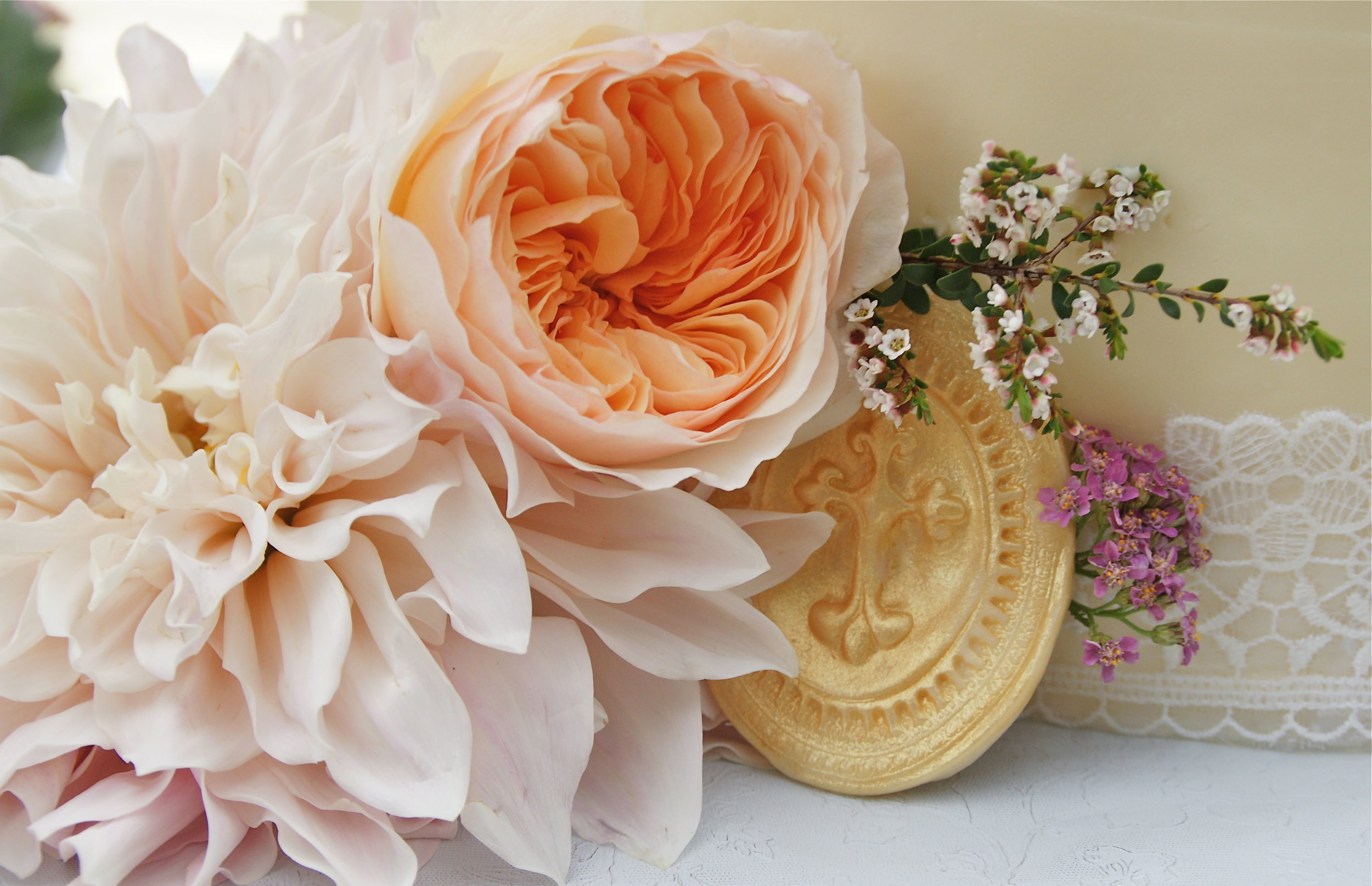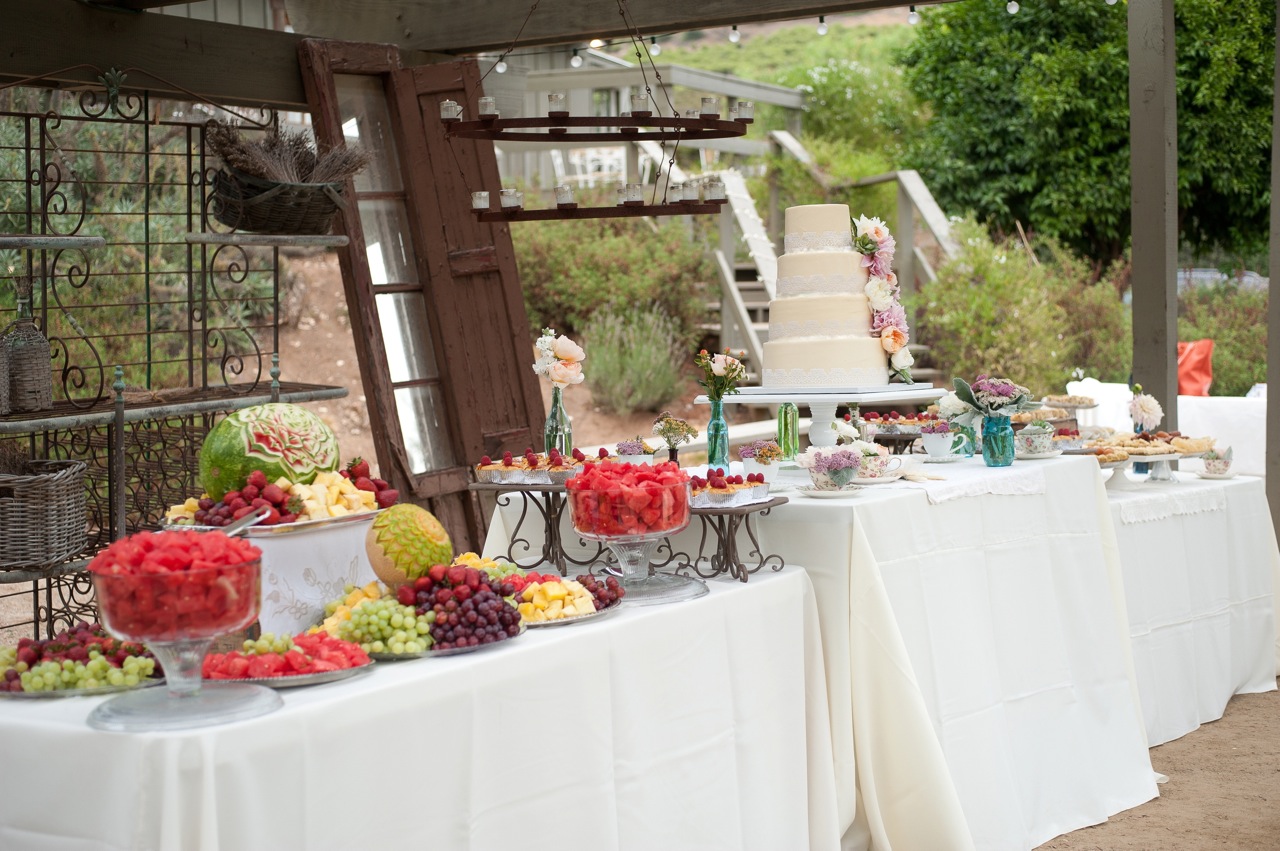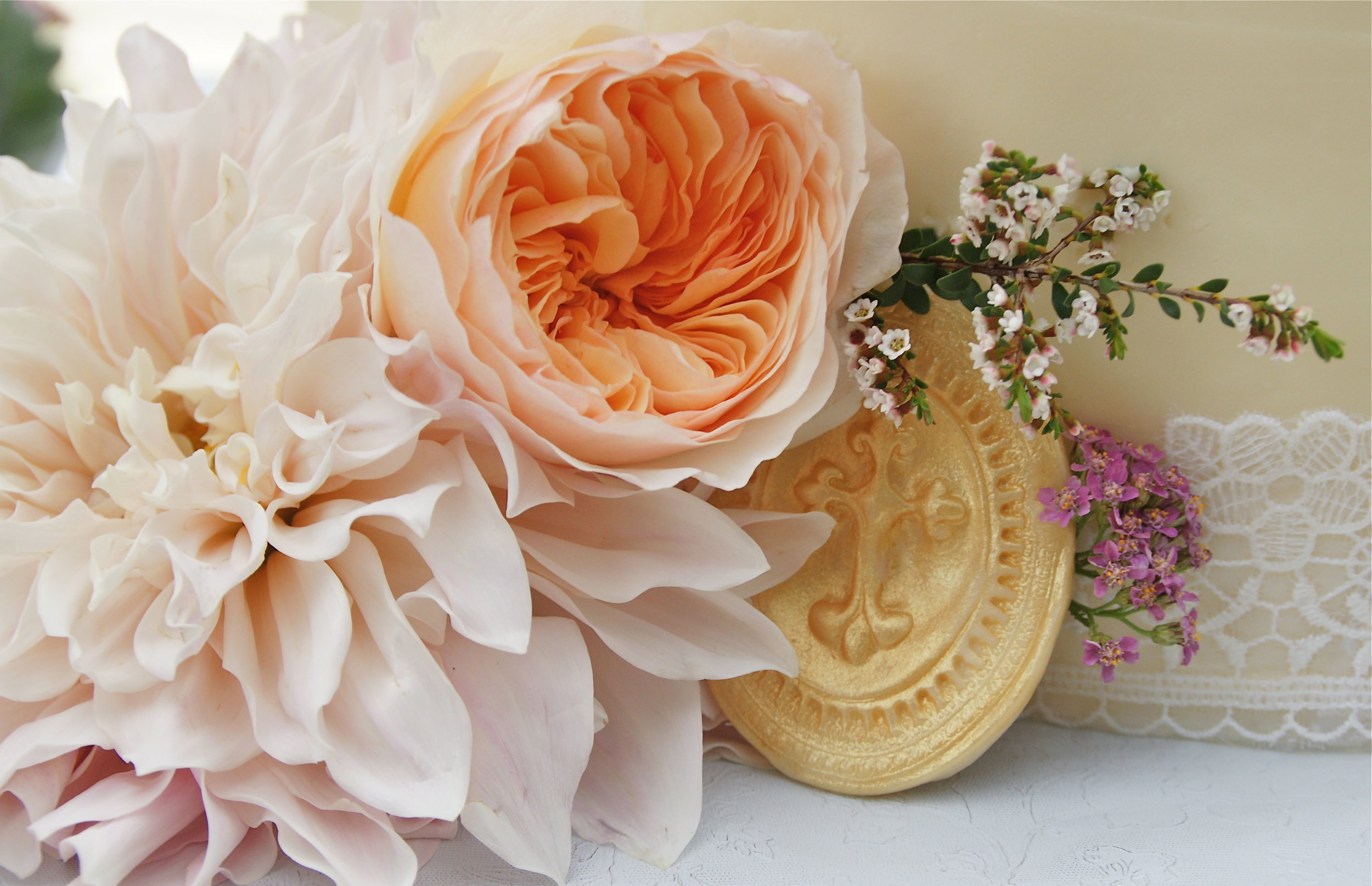 Photography: Milissa Takashima and George Street Photography | Nuptial Mass or Engagement Location: St. Stephen Roman Catholic Church, Valley Center, California | Reception: Keys Creek Lavender Farm, Valley Center, California | Dessert table catering, setting, styling, + plating: Mili's Sweets | Fruit: Anna's Fruit Carvings, El Cajon, California | Florals: Danniel Cunningham (friend of the bride and groom) | Succulents: The Succulent Source, Valley Center, California