Flora and Joseph made it their mission as a couple "to make the invisible love of God visible and tangible" to everyone they encountered. Their vintage wedding, inspired by both the Garden of Eden and Queen Elizabeth II's garden parties, reflected this desire.
Their story begins a few years before that joyful day, at Joseph's sister's wedding. That was where Joe first noticed Flora, the woman who would become his future bride.
From the Groom: Flora and I met through my sister Katherine, who at one time was Flora's teacher and mentor. At my sister's wedding, Flora and her friends came to celebrate a new life forged in marriage. She didn't know that at that very time, the Lord was preparing her for her own.
Over a year after Kat's wedding, I found Flora on social media and added her as a friend. I didn't want to push a relationship; I could tell from the way Kat talked about her and how involved she seemed with her faith that just knowing this woman would bring me joy and a greater peace of mind in Christ.
From the Bride: I was not interested in a relationship when Joe messaged me. I was seriously discerning the single life and focusing on my relationship with God. The summer before Joe and I met, my friend and mentor, Kathy, was travelling to World Youth Day in Krakow, Poland. She asked if any of us had intentions for her to pray for during the pilgrimage. I asked her to pray for my vocation.
Later, Joe and I met in person at St. Rita's church in New Orleans for a night of adoration and socializing with other young adults. He asked if I wanted to "grow in our relationship with Jesus together" (be his girlfriend) at a Dave & Busters in San Antonio, at the end of the SEEK 2017 conference. After SEEK, we consecrated ourselves and our relationship to Jesus through Mary on the feast of Our Lady of Lourdes on February 11th.
It wasn't until after we made this decision that I found out Kathy had prayed for my vocation in Lourdes, France. Early on in the relationship, the vocation of married life was very much on our hearts and in our prayers.
I was studying abroad in Amsterdam, the Netherlands when Joe decided to propose.
Our shared love language is quality time, so we FaceTimed any chance we got while long-distance. His mom texted one day and asked what my address was because she was going to send an "Easter surprise." I thought nothing of it because she makes Easter baskets every year for her grandchildren.
The day before Joseph proposed, he woke up, got dressed for work, and FaceTimed me. Later in the day, when we usually talked during his lunch break, he told me the principal wanted to meet with him about lesson plans, so we wouldn't be able to chat. That night, he planned to meet up with friends.
I found out later he was actually on a flight from New Orleans to Amsterdam. I woke up to a call from the "mail woman" the next morning, claiming that a package for me was downstairs. I put my shoes on (still in my pajamas) and headed downstairs. She told me my package was outside, and I became very confused. I stepped out onto the street, and there was Joe with flowers in one hand and an acoustic guitar in the other. That's where he asked me to be his wife.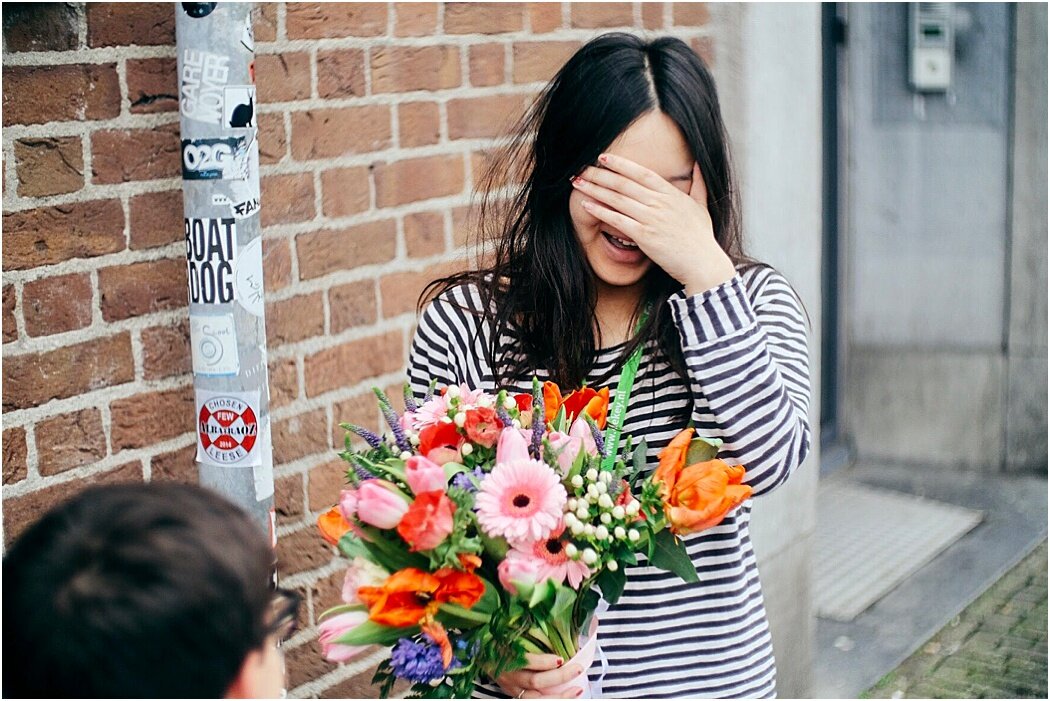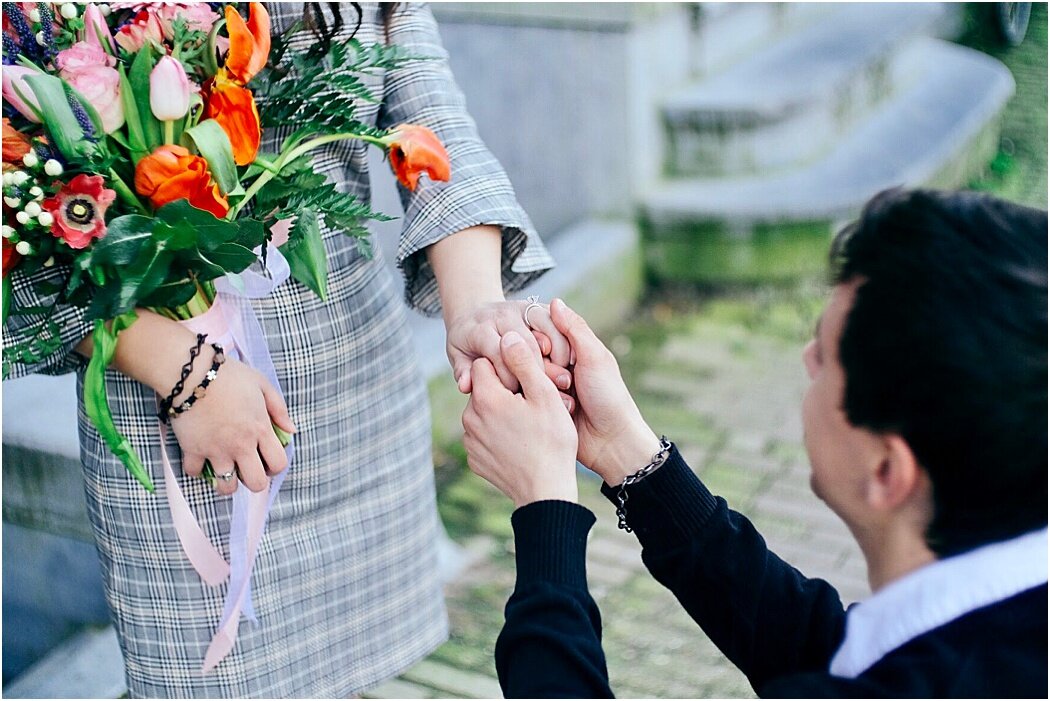 My bridesmaids and I got ready the morning of the wedding at a gorgeous Airbnb on Magazine Street in New Orleans. Joe and his groomsmen got ready at his parent's house. I didn't particularly enjoy planning the wedding, so creating a peaceful environment on the wedding day was important to help me enter into the sacrament with Joe.
I had begun writing "letters to my future husband" three weeks after we started dating. I wrote about small and big events in our relationship, my thoughts when we were long-distance, and many thanks for his selfless acts. Joe wrote me a sweet note the morning of the wedding, and we both read our letters in the church as we waited to see each other at the altar.
Divine Mercy parish in Louisiana is where we started going to Mass as a couple, and it's where we were married on our wedding day.
Joe and I love a particular quote by St. John Paul II. He said, "It is the God-given purpose of our lives to make the invisible love of God visible and tangible in our material world." It has become part of our mission as a couple to share God's love in the world. We wanted our guests to feel and know his love through the readings, songs, vows, and intentional time with our friends and family.
I walked down the aisle to a song called "Closer" by Steffany Gretzinger. The bridal party walked out to the instrumental of the song, and when the doors opened, the cantor started singing the verses. I heard the song for the first time during adoration when Joe and I were on a retreat together. It's about the beauty of God's love, and it reminded me of how beautiful Joe's love is as well.
I was already crying before the doors opened. Joe and I dealt with hardships throughout our engagement, and in this moment I was shown how victorious love is.
We chose the "washing of the feet" as our Gospel reading because Jesus showed the Apostles how to be servant leaders. Marriage is a sacrament of service, and it is our mission to share God's love with those we encounter every day. As we were kneeling in front of the altar, I thought about how it is a place where sacrifice occurs (think Abraham and Isaac, the moment of transubstantiation, etc.), and how Joe and I were sacrificing our own lives, wants, and needs to be joined as one.
Our main celebrant, Fr. Abraham, is a spiritual father figure to me. He has known me since I was 15 and watched me grow as a leader and a woman in the years before the wedding. His homily is one I still think about often because he emphasized God's gift of love and how important it is to seek Jesus in the Eucharist throughout our marriage.
Joe's maternal grandfather and namesake was his best friend growing up and would have been the best man at our wedding. He was given his grandfather's wedding ring after he sadly passed away in 2017. During the exchange of rings, when I put Nanu's (his grandfather's) ring on Joe's finger, we both felt Nanu's presence in the moment.
We placed flowers and prayed in front of a statue of Mary in honor of our patron saint, Our Lady of Lourdes. We prayed in front of St. Joseph, who has worked overtime in intercessory prayers for us. Joe and I are so grateful to have them as role models as we strive to be a holy family.
The wedding was attended by an intimate group of family and friends. The blush and greenery aesthetic we chose was inspired by the Garden of Eden. The story of Adam and Eve was the first reading, and it is a beautiful example of living in communion with God in a paradise like the Garden.
When I imagined our wedding, I pictured long tables with our loved ones and enjoying a celebration of love and mission, like the Wedding at Cana. We asked our female guests to wear fascinators: a small, vintage headpiece. The idea stemmed from Queen Elizabeth II's famous garden parties she hosted at the palace with people who were recognized for their public service. Since it was an intimate celebration, these were the people we recognized as our loved ones and role models in our lives.
We have so many talented loved ones that helped contribute to the beauty of our wedding day. My sorority sister, Ariel, designed our wedding invitation and luncheon menu. Joe's sister, Genevieve, designed the wedding crest that we used on invitations, song sheets, menus, and the seating chart. Joe's aunt Gina baked our elderflower-flavored wedding cake. My sister, Vi, arranged all the flowers for the bridal party, groomsmen, mothers (including Mary), and the reception. Each person's contribution made the day even more special and personal for us.
Love is victorious. As the verse goes, "Love is patient and kind; love is not jealous or boastful; it is not arrogant or rude. Love does not insist on its own way; it is not irritable or resentful; it does not rejoice at wrong, but rejoices in the right. Love bears all things, believes all things, hopes all things, endures all things. Love never ends" (1 Corinthians 13: 4-7).
When it comes to wedding planning or planning for the future, it may seem like there is no light at the end of the tunnel. But when you finally come into the light, all the graces are so sweet and well worth it.